Factors You Should Always Consider While Choosing The Design Of A Kitchen
A kitchen is often considered to be the hub of our home, so you need to think a lot about the kitchen design other than picking up a few materials and colours for the same. The design factor of your kitchen, such as maintenance and practicality, layout, space, is what makes your kitchen functional. Apart from all of these factors, the appliances that you choose, the paint colour, and the other extras come down to the personal taste and the style in which you want to decorate your home and kitchen.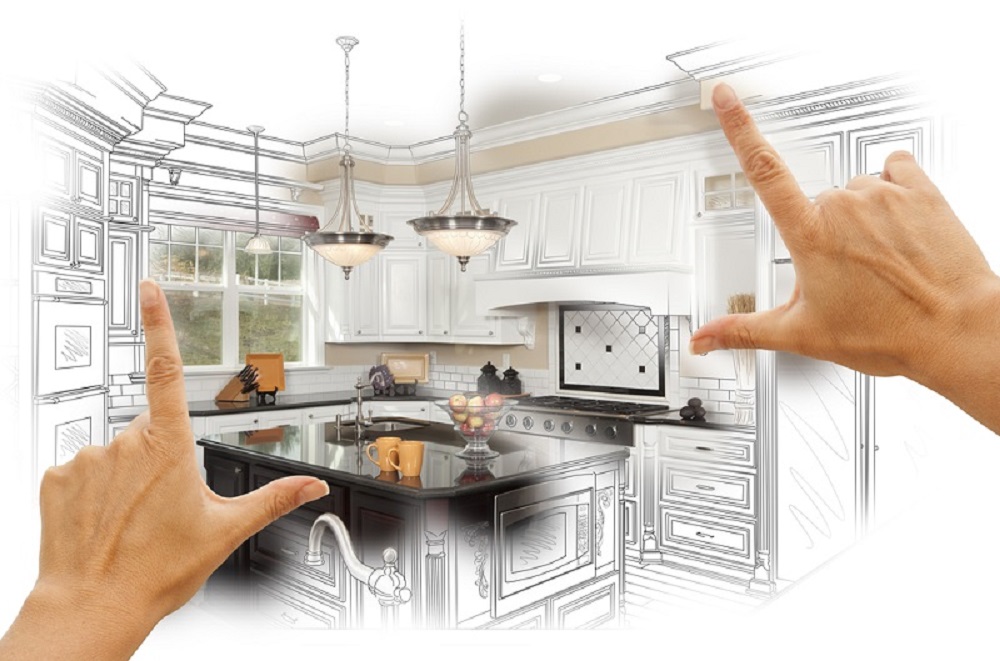 Let us look into the following points while deciding upon the key factor for your kitchen design:
Layout and needs: While deciding the new kitchen design, you should first of all take into account the types of activities that you do regularly in this space. Well, if cooking is going to be the answer, then you should create kitchen designs according to your ideas and beliefs. answer, this can mean different things for a different person. The kitchen design should always be designed using triangle theory. This theory states that every kitchen should have a pathway between the fridge, sink, and cooktop. There should also be sufficient space between these primary elements to ensure maximum efficiency. This triangle theory states that the distance between these three appliances should always range between 12 to 23 feet so that everything is within reach, and at the same time, they are not very close to each other.
Budget: The first thing that you should always consider during kitchen design is the budget. If you do not start with a budget in mind for the project, it can turn out to be astronomical. You should always look into the crucial elements that are very much necessary for your kitchen design, such as cabinets, flooring, and countertops before selecting anything else so that you do not go beyond your budget. You should keep the maximum budget for this item in the kitchen.
Flooring: The kitchen flooring plays an important factor and , so is your kitchen flooring which plays an important role in the kitchen design. You should always consider the facts such as comfort, appearance, durability, and cleaning while choosing the correct material for the kitchen floor. For example, wooden floors are warm and natural, and they look good in any place that they are being installed, but they require a lot of maintenance and care compared to tile flooring. Ceramic tiles are easy to clean and are durable as well, along with that, they offer a wide range of options when it comes to size and colour. However, if you plan to spend a longer time standing at the countertop and cooktop, ceramic tiles do not seem to be that much comfortable.
Storage And Cabinetry: In this part the homeowners have many choices when it comes to choosing the cabinet styles and materials. There are vinyl-coated and laminated cabinets which can be chosen over wood; since they give the same finish as that of wood. These materials are easy to clean than that of wood. However, the final decision for the cabinet material for kitchen design comes down to personal choice and preferences. You should always choose a material that is low-in maintenance, durable, and easy to clean, that can last the life of your kitchen. A kitchen design should also afford ample space for you to store small appliances, store food items, and cookware. In most of the kitchen, cabinetry includes the basic drawer and cabinet above and below the countertop, but you may require more storage space than this, so in that case, a bar set or an island in the centre of the kitchen adds more storage space.
Work Surface: Your kitchen design should be in such a way that it includes enough space for you to work comfortably so that you can complete your normal routine comfortably as well. The length of the countertop depends on your requirement, but the material used for designing the countertop should be easy to clean and should be durable. There is laminated countertop that is easily available and offers a variety of options in terms of pattern and colour. But they are not as durable as that of natural stones or tiles; however, they are less expensive than tiles or marbles. Natural stone countertops such as granite marble and slate are expensive options to choose from but provide beauty and function and will work for lifetime without wear and tear. Ceramic tiles, on the contrary, are available at a lower price and offer the durability of that of natural stones.
So when you are planning for your kitchen design, you should always keep in mind the above factors as they determine the life of the kitchens, along with reducing the budget and storing maximum space that might be required for the daily routine work.